---
Alinco DJV5T/TH/TDC/TDCH
VHF/UHF Dual Band FM Transceiver
Star Performer!


<!A HREF="Dj-ma1A.JPG">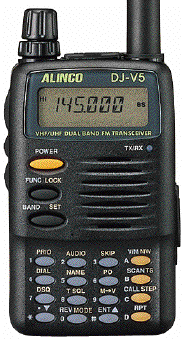 Alinco introduces an exciting new VHF/UHF handheld-transceiver that will change the way you think about communications. The new Alinco DJ-V5 can fill a variety of roles and it does them all well. Loaded with technical features, 5 watts of output power and a wide array of operator conveniences, the DJ-V5 is an attractive newcomer in a compact package.

• Alphanumeric Display, up to 6 characters
• 200 memory channels plus two call channels
• Full VHF + UHF Amateur Band Coverage
• Expandable Receive Range, ( 76 ~ 999 MHz*) includes Wide FM capability
• Up to 5 watts output, 3 output settings
• CTCSS Encode+decode, DTMF squelch and 4 different European Tone Bursts
• Accepts up to 13.8 VDC direct input
• 4 scan modes, 5 programmable scan banks
• Input voltage display with over voltage warning
• MARS/CAP capability (DJ-V5T)
• Autodial memories
• Automatic high temperature protection feature
• Standard high-power 700 mAh Ni-Cd battery pack EBP-45N
• SMA antenna connector
• Eight different tuning steps
• Wire cloning capability
• Wide choice of accessories
• Audio output control (high/low)
• Split-band operation capability
*Cellular frequencies blocked on DJ-V5T

Alinco DJV5T/TH/TDC/TDCH
VHF/UHF Dual Band FM Handheld-Transceiver

Alinco combines high quality, great performance, versatile features and compact size in an exciting new radio, the DJ-V5T/E.
| | |
| --- | --- |
| Power | Up to 5 watts output, 3 output settings |
| Alphanumeric Display | Easy recall of repeaters or simplex channels, up to 6 characters |
| Wide Receive Range | Expanded receive capability delivers coverage from 76 ~ 999.995 MHz!* |
| Wide FM Receive | Experience quality audio when receiving wide FM signals |
| 200 Memory Channels | Plenty of memory to use any way you wish. Save band, frequency, offset, CTCSS, transmit output level, tuning step, DSQ and alphanumeric channel name. |
| Enhanced Repeater Operations | CTCSS encode+decode, plus selectable tone bursts (1000, 1450, 1750, 2100 Hz) |
| DTMF Tone Squelch (DSQ) | Allows creation of call groups free of distracting traffic. |
| Temperature Protection | Reduces output power when internal temperatures are too high. |
| Cable Cloning | Program multiple DJ-V5 units from a "master" unit. |
| Multiple Scan Modes | Use the wide-range receive capabilities of the DJ-V5 to their full advantage. |
SPECIFICATIONS

General
DJV5T
Freq. RX original status
76-107.995
F2,F3,WFM
144-147.995
420-449.995
Freq. TX
144-147.995
F3
420-449.995
Freq. Stability
+/-5ppm(-10 to +60c)
Antenna Imp.
50 ohm unbalanced
Supply Voltage
DC 13.8V rated
DC 3.6min to 16V max
Ground
Negative GND
Current consumption
TX 5W 1.6A approx.
at 13.8V external source
RX 220mA approx
RX squelched 70mA approx.
RX Batt.Save on 20mA app.
Operating Temp. range
-10 to +60 degrees C.
Dimention w/o projection
58(W) x 97(H) x 40.3(D)mm
Weight with drycellcase+cell
335 gramms
and antenna
Transmitter
Output power
5W w/in V/UHF Ham bands
Mid=1W, Low=0.5W
Modulation
Variable reactance
Max. Deviation
+/- 5.0 Khz
Spurious emission
less than -60db
Microphone Imp.
2k ohms approx.
Receiver
Circuit
Double superheterodyne
1st IF freq.
39.15Mhz
2nd IF freq.
FM/450khz WFM/13.35Mhz
Sensitivity 12db SINAD
76-108Mhz WFM 0dbu app.
2m FM better than -16dbu
440Mhz " " -15dbu
Selectivity except WFM
more than -6db/12khz
less than -60db/30khz
Image/spurious response
less than -60db
AF out at 10% distort.13.8V
more than 500mW/8ohm
AF impedance
8 ohms
Standard feature
Expandible RX range
76 to 999.995Mhz continue.
AM/FM/WFM
except 824-850Mhz range
MARS/CAP mod.
Yes
DTMF SQ
Enc/Dec 3 digits
DCS SQ
na
CTCSS SQ
Enc/Dec 39tones
Memory ch.
200ch
Auto Dialer memory
8ch
Program-scan memory
5 combinations
Call channel
2 ch


Information about the Accessories for DJV5T/TH/TDC/TDCH
Accessories for the DJ-V5T are as follows:


Model
Ni-Cd battery
Dry cell case
EDC-93 Charger
DJ-V5T
EBP-45N black
none
Yes (Black body/standard Ni-cd)
DJ-V5TH
EBP-46N black (high)
none
Yes (Black body/standard Ni-cd)
DJ-V5TDC
none
EDH29C clear
none (Clear body/Clear dry cell case)
DJ-V5TDCH
EBP-46N black (high)
EDH29C clear
Yes(Clear body/Hi NiCd+Clear D.C.case)
* EDH29 black dry cell case is NOT a standard accessory for any model.
* Specifications of the unit are the same.
* The following are standard for all "T" versions: Antenna,
belt-clip,hand-strap, instruction manual, and warranty card.

Sorry there has been a typographical error on the standard accessory list page of the instruction manual.
Please disregard if you may find it (An Errata sheet is inserted for clarification now and it will be corrected from the next print).
Specifications subject to change without notice or obligation. Specifications apply to Amateur Radio bands only. Permits required for MARS/CAP use. Product intended for use by properly licensed operators. Cellular frequencies blocked in USA